When I was chosen to be one of the lucky recipients of an
Influenster VoxBox
I was very excited. Inside were two imPRESS Press-On Manicures,
Working Girl and Joyride
.
Working Girl (left), Joyride (right)








My previous experience with press on nails hasn't been the greatest, and because of it, I have avoided wearing them for a long time. I am used to the old-fashioned, hard plastic, overly fake looking nails, so I was hoping that things had changed when I brought these out to try.
I am not a fan of really sparkly things, and so Working Girl wasn't really my taste. I put them aside to share with my sister or a friend later on. Joyride was a bit better of a colour, so I tried them on.
The directions for application and removal were printed right on the back of the package and were easy to follow.
Included inside were 24 nails, varying in sizes, and a prep pad.
All I had to do was sort through to find the 10 that fit my nails best, lay them out for easy access, use the prep pad to cleanse my nails, peel off the back, press on firmly, apply some pressure, and
go on about my day!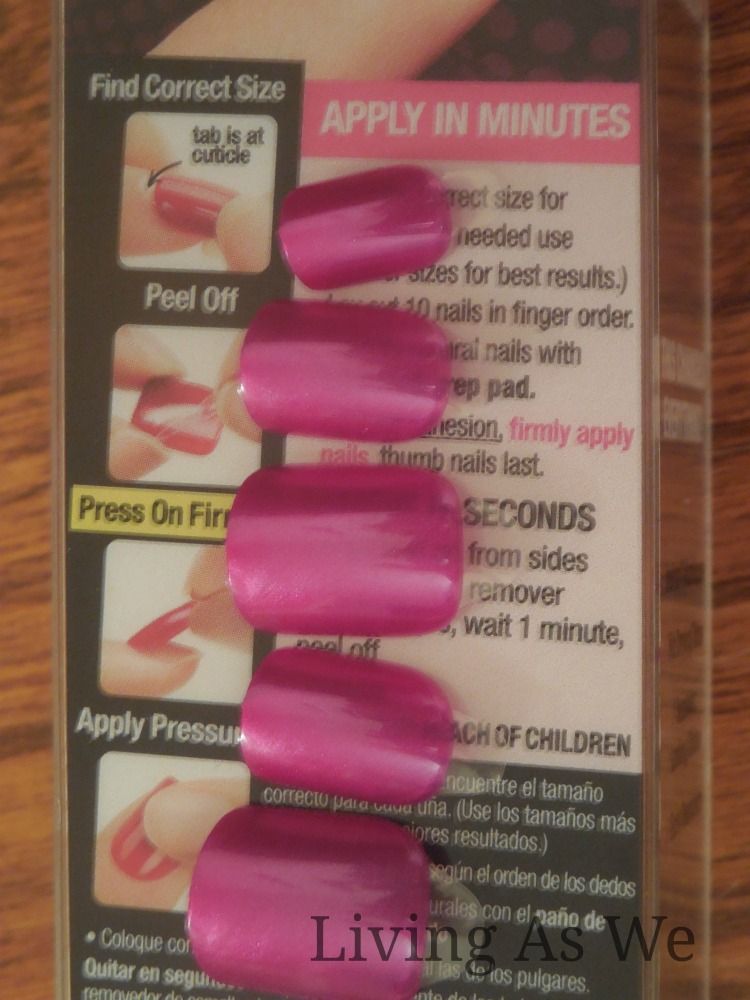 Finding the proper size to fit my nails was a bit of a challenge, even though there was a good variety of sizes available. I wound up choosing a larger size for my middle finger than I would have liked, but the smaller ones were just too small and wouldn't have looked right.
Another challenge for me was getting the backing off of the nail when I was applying it. Once I got a few nails on, it became more difficult to peel the backings off. I guess that goes to show the strength of the Revolutionary SafeHold™ Adhesive Technology that is used though. I did find that they stuck a lot better than any other press on nail that I've used in the past. They lasted a few days before coming loose while I was washing an apple for my daughter, but other than that they stood up okay to my day to day life.
I was a little disappointed to notice that there were a few jagged pieces of plastic at the tips of a couple of the nails, but after I had the nails on for a couple of days, they wore down on their own.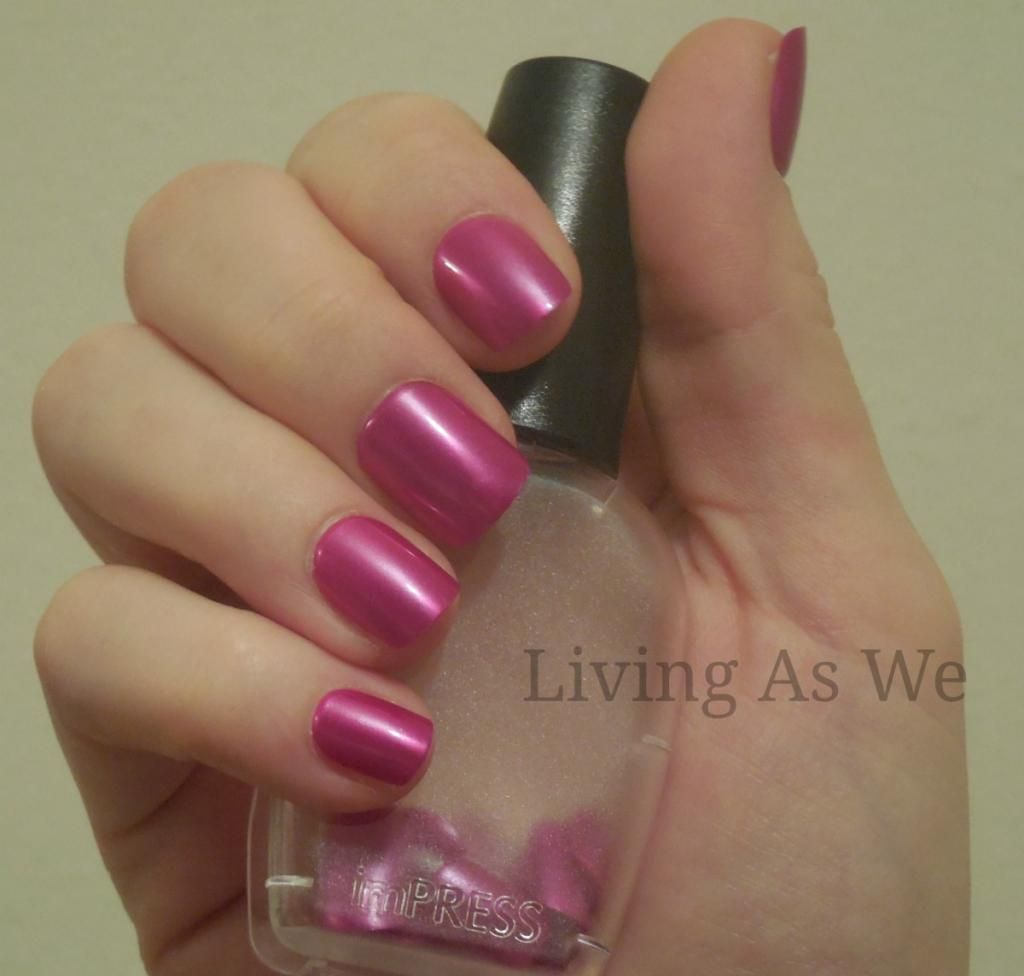 Me wearing Joyride.
Overall, I am left with mixed feelings about this product. I love the convenience factor, and all of the amazing colour choices available. They are also affordable, widely available, and were the most flexible press-on nails that I've tried to date. However, I didn't like the name choice of Working Girl, finding the jagged tips, and having so many nails left over with no more prep pads to use if I did want to save them to mix and match with other leftovers down the road.
imPRESS Press-on Manicure is available in the US for $5.99 – 7.99 at CVS, Kmart, Rite-Aid, Target, Walgreens and Walmart stores nationwide.
imPRESS Press-on Manicure is available in Canada for $8.99 – 10.99 at Walmart, Target, London Drugs, Jean Coutu, Katz, Loblaws, and other major drugstores.
For more information and how-to videos, visit imPRESSmanicure.com.
What do you think about the imPRESS Manicure?
Would you like to see your products featured in a review/giveaway similar to this one? I would love to work with you! Please feel free to email me: oddball2003@hotmail.com .
I received the products mentioned in this review complimentary from Influenster. Opinions are always 100% honest and my own.