There are people who eat gluten free just because it seems like the new thing to do, people who have an actual allergy, and then there are people like Emily and I who just notice a huge difference in digestion. For me, living with IBS, it is important to pay attention to what bothers my stomach and what helps it.
I came across Glutenfreeda Foods on my search for
natural products
available here in Canada. All of Glutenfreeda products are made in a 100% gluten free facility using all natural ingredients, no GMO's, dyes or trans fat, and are certified kosher.
The assortment of oatmeal, and granola in particular jumped out at me. The variety of flavours was quite nice and they all sounded appealing, especially the Strawberries Brown Sugar and Apple Cinnamon Oatmeal. I was kindly offered the choice of what I would like to try, to work with our dietary needs. I decided to go with the Apple Almond Cinnamon Granola, the Cranberry Cashew Granola, and since I couldn't choose between all of the oatmeal flavours, I had to go with the variety pack.
The package arrived quickly. Emily was with me when I opened it and she automatically grabbed for a box of granola. We tried the
Cranberry Cashew Honey flavour
first. I loved that it could be eaten as is, with a bit of milk, or on top of yogurt for a quick breakfast or snack.. The granola came in four individual packages, which helped maintain freshness, and made for easy portion control. I found there was a fair amount of cashews and cranberries in each package. It had a good balance of savoury and sweet. We both liked it.
Next, we tried the
Apple Almond Honey flavour
. This one was even better for me. I enjoyed the apple more than I did the cranberries (probably why I overlooked getting a picture). I loved the combination of apple and almonds together along with the granola. This is a granola that I would buy again and again, and would be especially great for camping, hiking trips, or to take with you when you are on the go, in general.
Pictured: One package from start to finish, Banana Maple with Flax flavour.
Last on our list to try was the
variety pack of the instant oatmeal
. This box had 6 packets inside, 2 each of
Banana Maple with Flax, Apple Cinnamon with Flax, and Banana Maple with Flax
. I haven't seen a Banana Maple instant oatmeal anywhere else, but thought it was delicious. The maple raisin was yummy too, but I would have liked to see more raisins. And my favourite, the Apple Cinnamon. This is a pretty typical flavour, and I was happy to see it because it has always been my favourite! There was a good amount of apples in there, though I did have to add a bit of brown sugar. I appreciated that none of them were overly sweet and that the addition of flax didn't stand out. I didn't even bite into any pesky seeds. :)
The directions called for 1/2 cup of boiling water for preparation using the method I chose, but I found that I didn't need the full amount. My advice would be to add the water slowly until you get the desired consistency.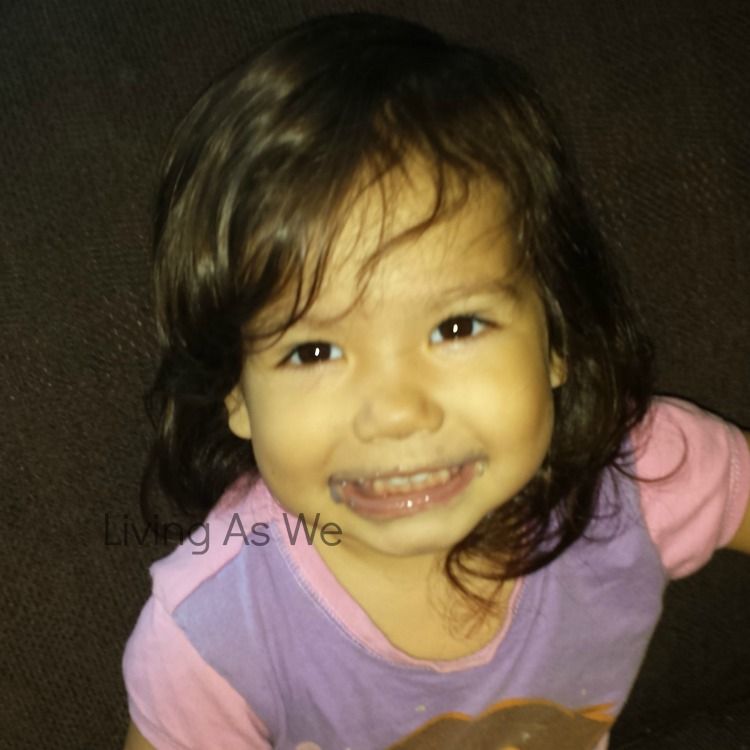 Emily likes it too! Complete with a blueberry stained, soy-milk mustache.

Overall, I am happy to have found this brand, and most importantly, it has earned Emily's seal of approval. Not only do they have some fantastic products that I have tried, they have several more that I look forward to trying in the future. The website itself is a great resource for those dealing with gluten allergies, and has some delicious sounding recipes (many of which I'd like to try myself). I would recommend these products to anyone who eats gluten free, prefers natural products, other moms, and any campers out there.
Glutenfreeda products can be found in natural food stores across the US and Canada, major stores in the US and on Amazon.com/Amazon.ca.
Do you try to eat gluten free? Which flavour sounds best to you?
I receive sample products in order to conduct my reviews. Opinions are always 100% honest and my own.